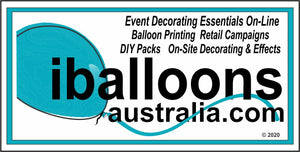 *On-Site Decorating this service is provided by Balloon Decor in Melbourne and covers a full range of Balloon Decorating
* Special Effects We offer you a variety of Event Effects including Balloon Drops, Reveals, Smoke & Bubble Machines & Lighting for sale or hire
*Buy-On-Line Event Accessories Balloons, Ribbons, Novelties, lights, effests and D-I-Y [Decorate It Yourseld] Kits
*FREE D-I-Y Instructions This series of BALLOONease Instructions cover wide range of balloon sculptures, and professional tips and tricks
*About Us explains who we are and where we come from as well as our Environmental Statement
balloonDECOR Australia
On-Site Decorating for all occasions.
We have been decorating Melboure Events fince 1983 -
*On-Trend Decor Balloons with Lights, Mesh Backdrops, Balloon Walls,
*Classic Event Decor Such as Balloon Arches & Columns, Table Decor, Event Signs
*Corporate Decor for Shopping Centres, Retail Stores, Trade Shows, Car Yards
*Theme Party Balloon Decor Decor Christmas, Australia Day, AFL Grand Finals, Under the Sea,
Visit balloonDECOR Australia
balloonDECOR Special Services
FREE BALLOONease Decorating Instructions
Soon this site will be featuring BALLOONease is the language of Balloon Decorating.
Our range of FREE step-by-step instructions detailing how to build a variety of classic balloon sculptures are full of professional tips and tricks.
'CREATE An ACCOUNT' above and be informed when the BALLOONease PDFs are ready to download